SIG believes in giving its students a friendly yet motivating learning atmosphere. After all, it is through this holistic exposure across different learning platforms that SIG is able to deliver geoinformatics professionals as per industry standard. As part of its learning environment, SIG encourages its students to step out of the confines of the campus and participate in conferences and seminars on Geoinformatics across the country. Here is a brief overview of the conferences that the students from SIG have attended till date:
17-19 September 2018
Space for the Sustainable Development Goals
Dr. T.P. Singh, Director SIG, Participated in United Nation Conference "Space for the Sustainable Development Goals" in Austria.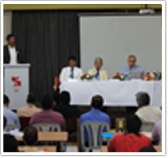 18 June 2016
Geo-Vision 2016
18th June, 2016 , ISG, IWRS and SIG conducted a Workshop on "Smart Cities And Geo-Ict Initiative - Geovision"
Dr Anand Deshpande, CEO Persistent , Dr. Rajat Moona , Director General (C-DAC) , & Dr . B Mukhopadhyay Add Director General IMD Govt of India Have Inaugurated the Seminar
31 August 2013
Geo-Vision 2013
Water Sustainability 2020
SIG organises 'Geovision' seminar each year in collaboration with Indian Society of Geomatics (ISG) and Centre of Advance Computing(CDAC).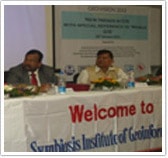 28 January 2012
Geo-Vision 2012
New Trends in GIS With Special Reference To Mobile GIS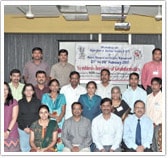 21-26 February 2011
Symbiosis Institute of Geoinformations
SIG organised five day workshop on 'Remote Sensing and GIS applications' for university teachers across India. The workshop was funded by the Department of Science and Technology, Govt. of India.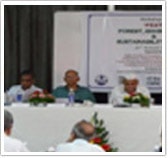 21 August 2010
Geo-Vision 2010
Forest, Environment & Sustainability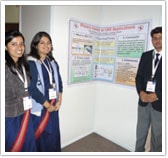 25 February 2011
Caddie: A golf course application using GPS in Android Devices
Conference : Geomatrix '11, IIT Bombay
Name of the participant/s : Dipti Sarkar and Varun Anand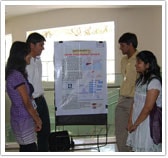 25 February 2011
Crime Information System (GIS based crime information system)
Conference : Geomatrix 2011, I.I.T Bombay
Name of the participant/s : Nilesh Irwadkar,Shaily Gandhi, Vijay Pawar, Manlee Chowdhury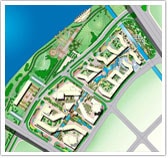 26-27 February 2010
Urban Change detection with the help of Cellular Automata
This project examines the use of GIS and Remote Sensing in mapping Land Use Land Cover in Pune between 1999 and 2005 so as to detect the changes that has taken place in this status between these periods.It is also use to produce a land use land cover map of Pune at different epochs in order to detect the changes that have taken place particularly in the built-up land and subsequently predict likely changes that might take place in the same over a given period.
Conference : Geomatrix' at IIT- Mumbai
Name of the participant/s : Anupama Joshi,Nisha Devar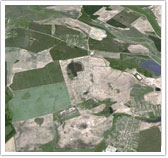 26-27 February 2010
Ecotourism with the help of Remote Sensing and GIS
This study is an attempt to identify potential ecotourism sites in eastern part of pune district using Remote Sensing and GIS techniques in Maharastra. After identifying the potential sites, a demonstrative plan has been made for Ecotourism development based on locally available natural resources.
Conference : Geomatrix' at IIT- Mumbai
Name of the participant/s : Anupama Joshi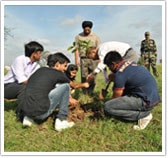 20-22 December 2010
Site Suitability for cultivation of Biofuel in Pune
We used Remote sensing and GIS to locate and find suitable sites for cultivation of Jatropha and Pangamia trees and suitable weather conditions for their growth in the Pune District .This study helped us in collection of the Jatropha & Pongamia seeds that can be processed into biofuels.
Conference : Geomatrix' at IIT- Mumbai
Name of the participant/s : Anupama Joshi,Sarat Bokka